Signing up for Sorare is very easy, but we would like to explain it in detail here.
Very important: Use this link, because you will get a free Limited card after you have bought five cards. You will not get this if you register directly at Sorare.
Step 2: Click on registration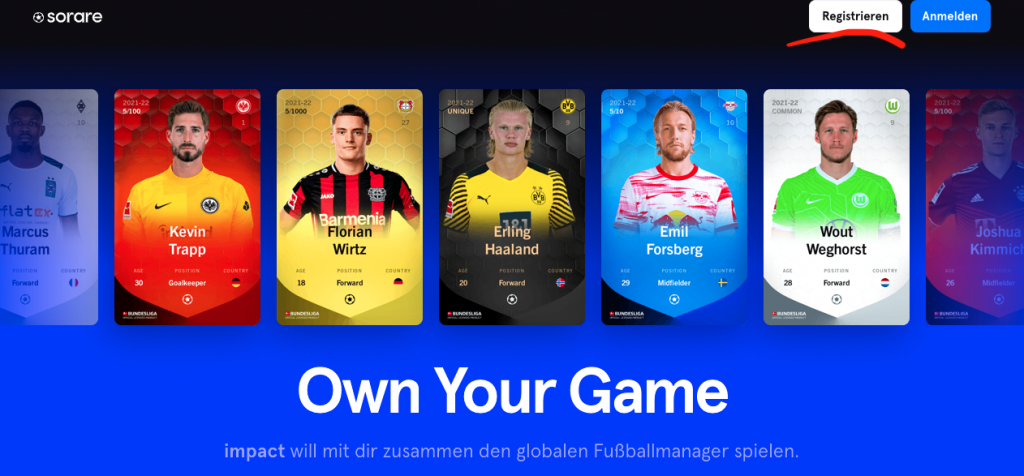 Now a popup should open asking for your data: an email address, a username and a password. Note: You don't have to enter the password twice, so make sure you haven't mistyped it.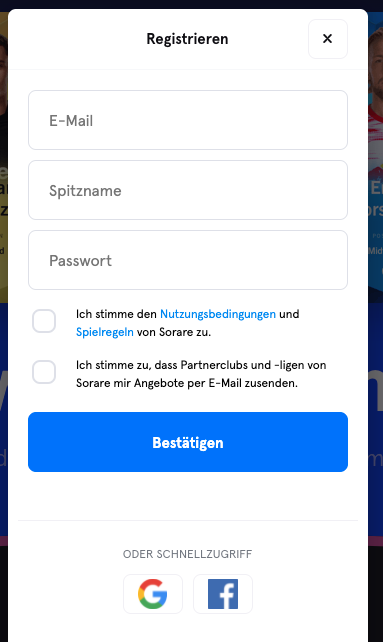 Agree to the terms of use.
You do not have to agree to receive offers from Sorare and subscribe to the newsletter.
It is also possible to register with your Google or Facebook account. Here you should be aware that the same email address will be used. Registration is very easy at Sorare even without Google and Facebook. Therefore, this is not absolutely necessary and does not necessarily take longer.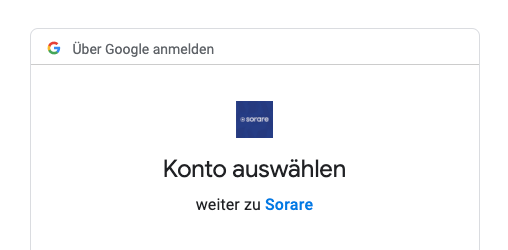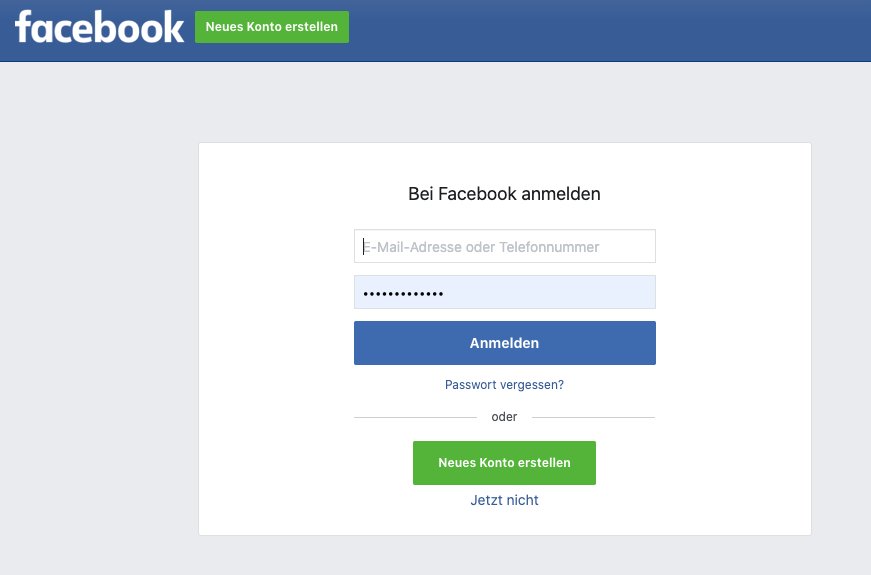 Step 3: Confirm your email address
Now you have to verify your email address and click the confirmation link. If you don't get an email right away, check your spam folder. Usually the email should arrive within a few seconds.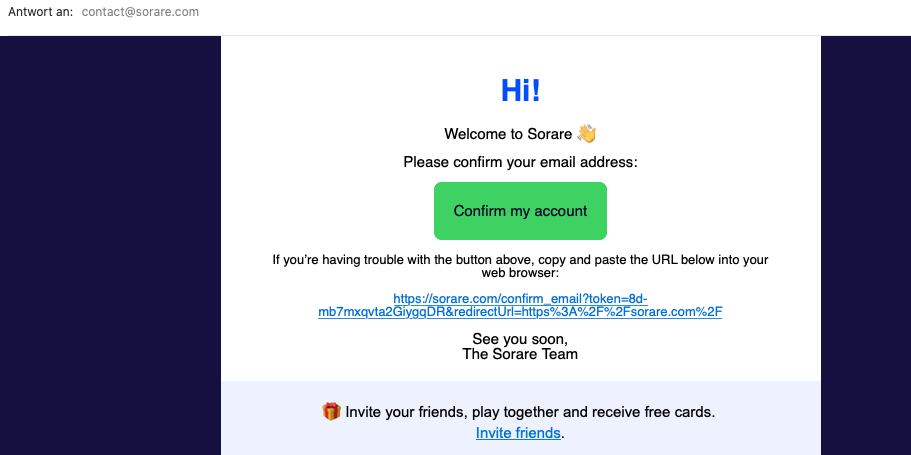 Step 4: Create your club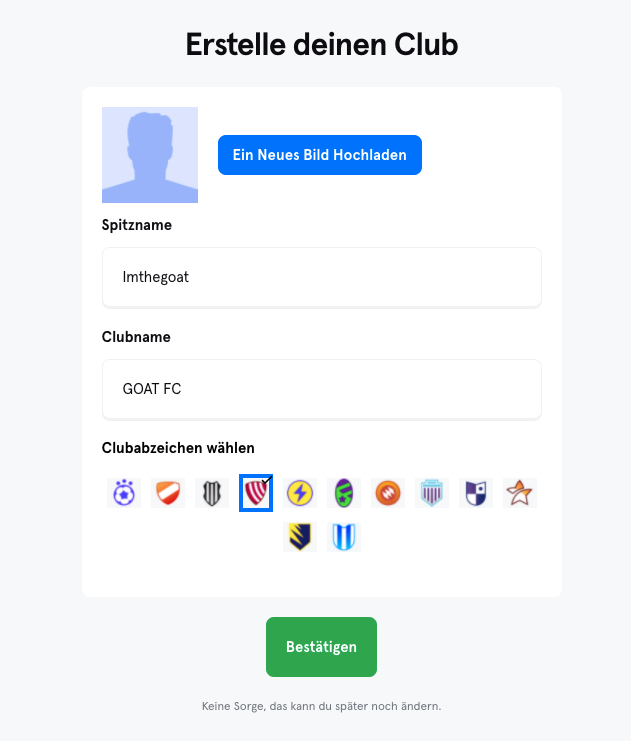 Now it's time to create your club. Basically it doesn't matter, but if you want the community to perceive you in a certain way, you have to create a suitable profile here. This includes your username, club name (default Username FC) and profile photo. You can change most of this at any time.
Step 5: Choose your favourite clubs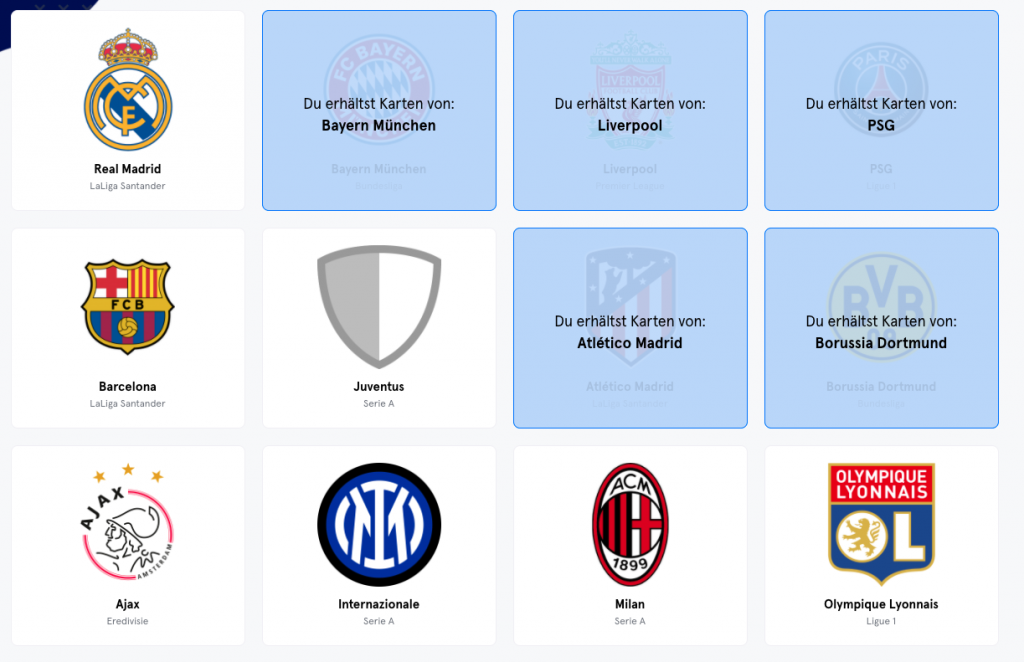 Ok, actually not. Because you now choose clubs from which you want to receive Common Cards. Common cards are free and cannot be traded. They have no value in that sense. BUT, you might want to play in a league where Common cards can be used and you can win prize money. In the "Threshold" league, for example, you can choose four rare cards and one common card. And the common card should be the goalkeeper, because rare goalkeepers are practically unaffordable. In short: choose clubs with good goalkeepers, e.g. FC Bayern. With a bit of luck you will get Manuel Neuer.
Step 6: Reveal your Common cards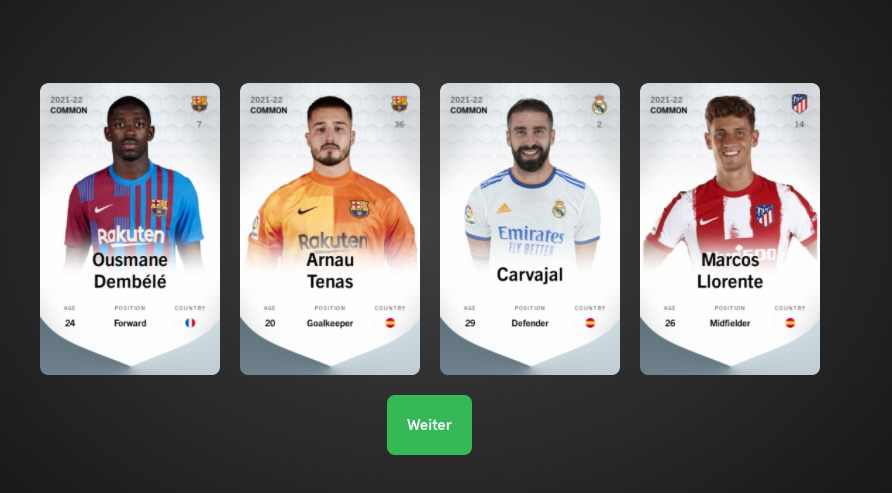 Now you can reveal your Common cards and see what you get.
Afterwards you will be introduced to how Sorare works. You should go through the tutorial because it shows you everything very well. In the course of the tutorial you will also get more common cards and you can register your team directly.
Step 7: Make a deposit
Let's not fool ourselves: The "casual league" with the common cards is quite nice, but you won't win any prize money. To get ahead in Sorare you need to buy cards. And here you should start with Limited cards, the cheapest form of cards. As said, if you have bought 5, you get 1 for free and can comfortably register your first team.
To make a deposit, we recommend (so far) to use Ramp as payment provider and not Ethereum. The reason is that the gas fees for Ethereum transactions can be as much as 50€ – while you pay no fees when depositing with credit cards or bank transfer.
Now click on the wallet in the top right corner.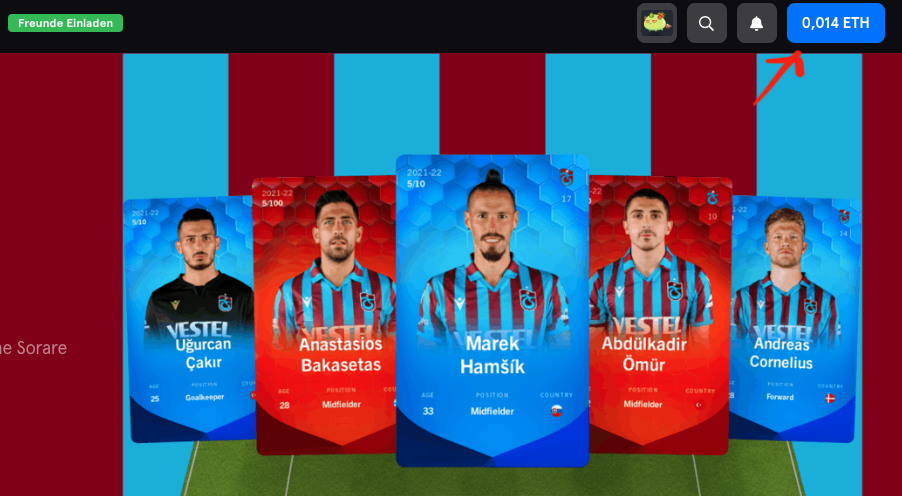 Then select "Ramp".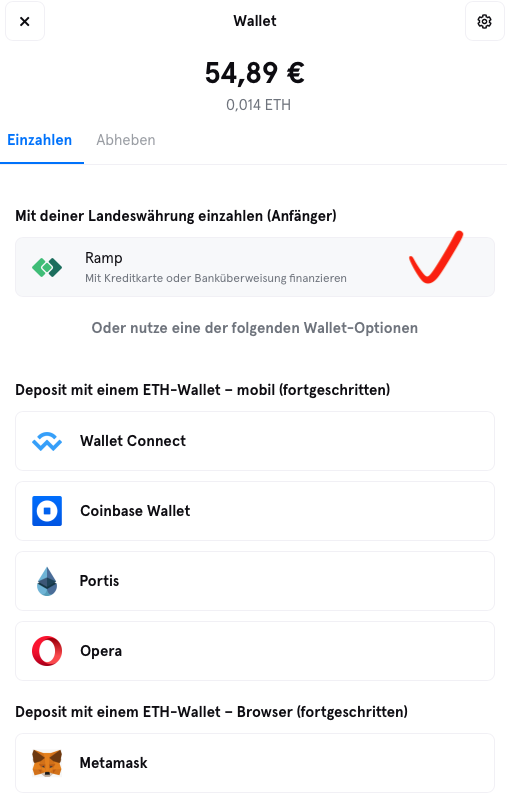 Step 8: Select amount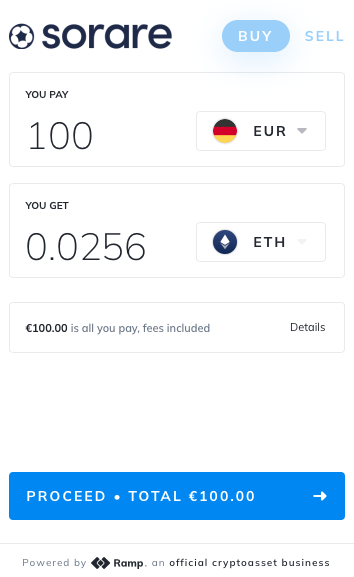 Now you have to choose the amount of Euros you want to deposit. You will also be shown how many ETH you will receive. ETH is the base currency at Sorare – after all, we are in the blockchain, so that is clear… ETH fluctuates greatly in value, of course, and so you can see completely different amounts than in our screenshots. While today you get 0.0256 ETH for 100 euros, in three weeks it might only be 0.021…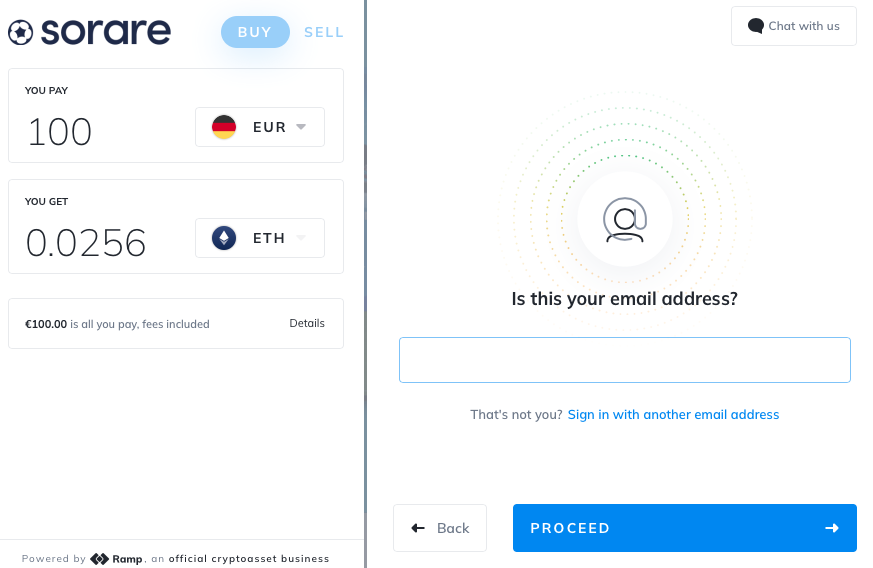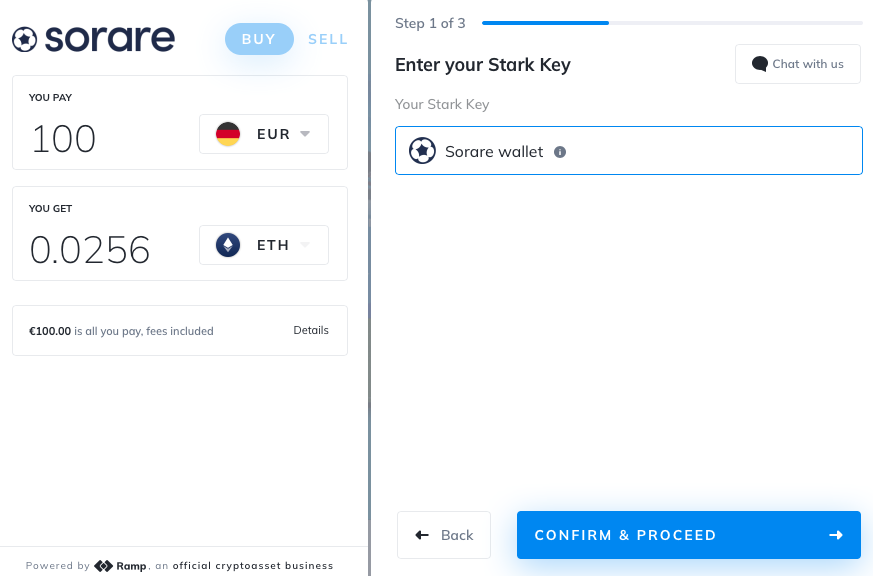 Step 9: Choose a payment method
There are several payment methods available to you with Ramp:
Instant transfer via Revolut – here you have to log into your online banking and confirm the payment.
Bank transfer – This can take a few days, of course.
Credit card – works immediately, but you need to have all the credit card details to hand.
Apple Pay – actually self-explanatory
Sorare will cover all fees when you deposit, whichever you choose.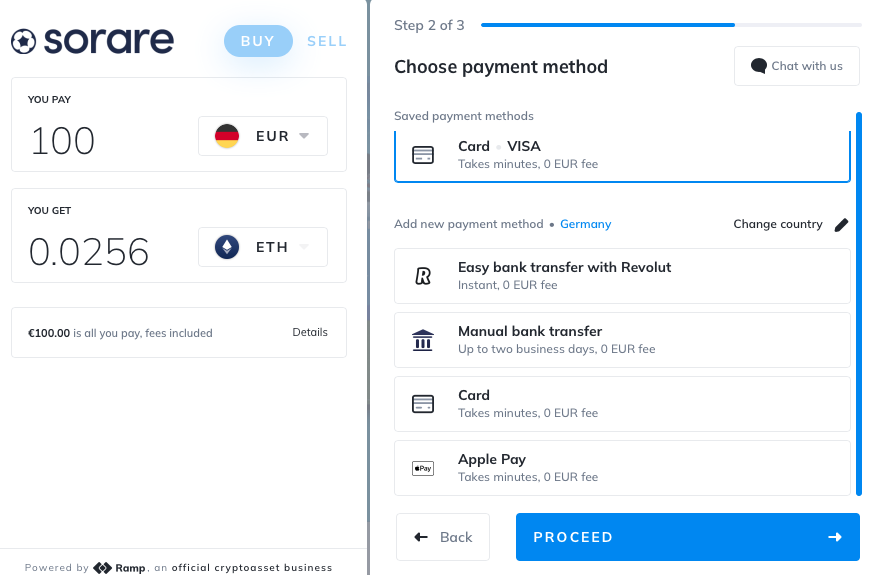 Step 10: Complete the payment
Click on "Continue" to confirm the transaction or to be redirected to Revolut or Apple Pay.
Done!
Please note that Sorare requires you to verify your payment when you reach a certain amount (usually around 250€). You can do this online without an employee and completely digitally. My verification takes about 10 minutes to confirm. You only need to have your identity card or passport at hand. After that, you basically have no limits and can go shopping 🙂
Step 11: Educate yourself to be successful
On TeamSorare you will find several articles that will help you to succeed at Sorare.
It's best to start with the following – and don't forget to use this link to sign up at Sorare to get your free card.