No one can be successful at Sorare without using appropriate tools. The best managers build their own tools to help them with scouting, purchasing and management. But these managers also earn four figures a month, so of course it's worth it. When you start out, it's probably different and you should use what's available for free. The good thing is that there are already some resources that you can use. We present them to you here and prioritise this list. That is, the resources and links are in descending order of usefulness:
#1: Soraredata
Actually a short weekend project, but it has developed into a real start-up in which even Sorare itself is now invested. Otherwise you couldn't just register there with your Sorare account. You should do that, too, because it allows you to manage your squad from Sorare via Soraredata and, for example, make rosters – at least as a draft.
Soraredata is by far the best tool you can use for Sorare and it's the best place to start, especially for scouting. You can filter the auctions and transfer markets accordingly. This is also important, because the filter at Sorare itself is very simplified and does not allow detailed scouting. You can use it, for example, to exclude too expensive auctions or offers on the transfer market.
With the "Card Finder", it is possible to find specific players according to your criteria, regardless of the offer. There are really few limits to what you can do and it's best if you play around with it yourself.
However, you have to log in to be able to use these functions and also to view the details of the respective players. The best way to do this is to link Sorare with Soraredata. This will allow read-only access to your players. Soraredata cannot do anything with your players. So you don't have to be afraid that they will just mess up your line-up. Once you have logged in this way, you can use all the functions.
Another helpful function is the line-up tool. It shows not only the score of the last game, but the expected score based on the upcoming opponent. This is a very important difference, because you want to score well in the following match and not in the past. In any case, this way you can make better decisions for your line-up and save them.
Please note: Soraredata does not do the team registration for you, but only helps you with the line-up. You still have to register your players manually with Sorare.
Conclusion: Currently, no tool comes close to Soraredata. It is free of charge and simply provides the basis for 80% of your successful managerial activities.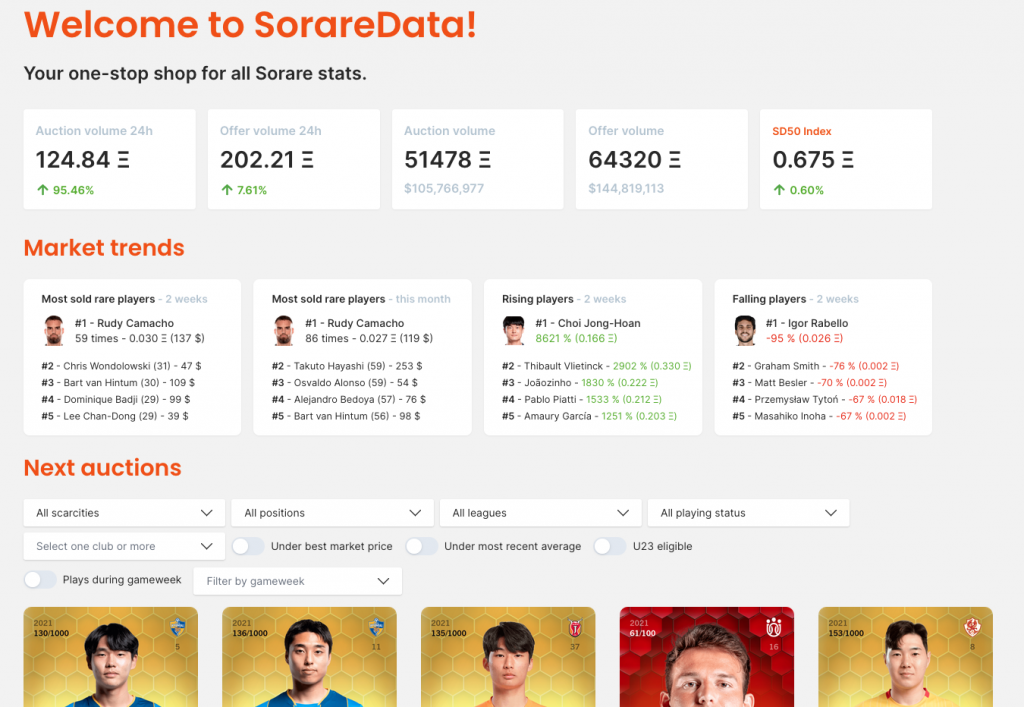 #2: Transfermarkt.com
There are certain things that are not possible with Soraredata. For this you have to use other sources. One of them is Transfermarkt because you can get important information about individual players. In addition, this site is the first port of call for transfer rumours. That is not an unimportant factor either. You should know if a player might move to a league that is not covered by Sorare. Or if a regular player moves from a weak club to a strong club where he has more competition. You should also know if a player plays for the national team, what injury history he has, etc. Pretty much everything can be found out via Transfermarkt with a little research. You can also see which exact position the player plays, whether he is often at risk of being red carded, etc.
In short: Transfermarkt allows you to go into detail and to better assess a player and his future performance and market value development.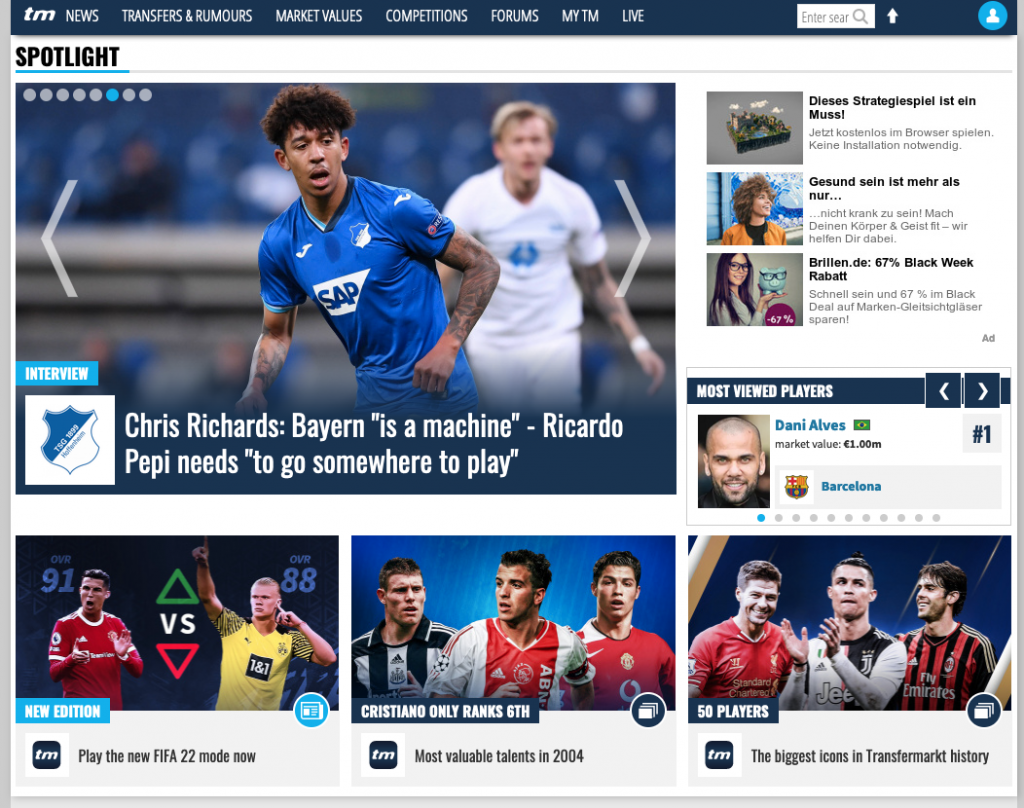 #3: Rotowire
Mainly known for American football, but also a very good source for football, especially when it comes to the Premier League. What Rotowire does better than Transfermarkt, for example, is to show the injury history and current injuries better. Here Rotowire seems to have much better data available and always knows exactly how a player is doing. It is also very interesting that you can view the scoring history of various fantasy football sites such as FanDuel, Draftkings, Yahoo and Sorare. You can see exactly where the strengths and weaknesses are and also how likely it is that the player will play despite a (cured) injury.
Rotowire also has a paid version that provides even more insights. However, the free version is usually sufficient.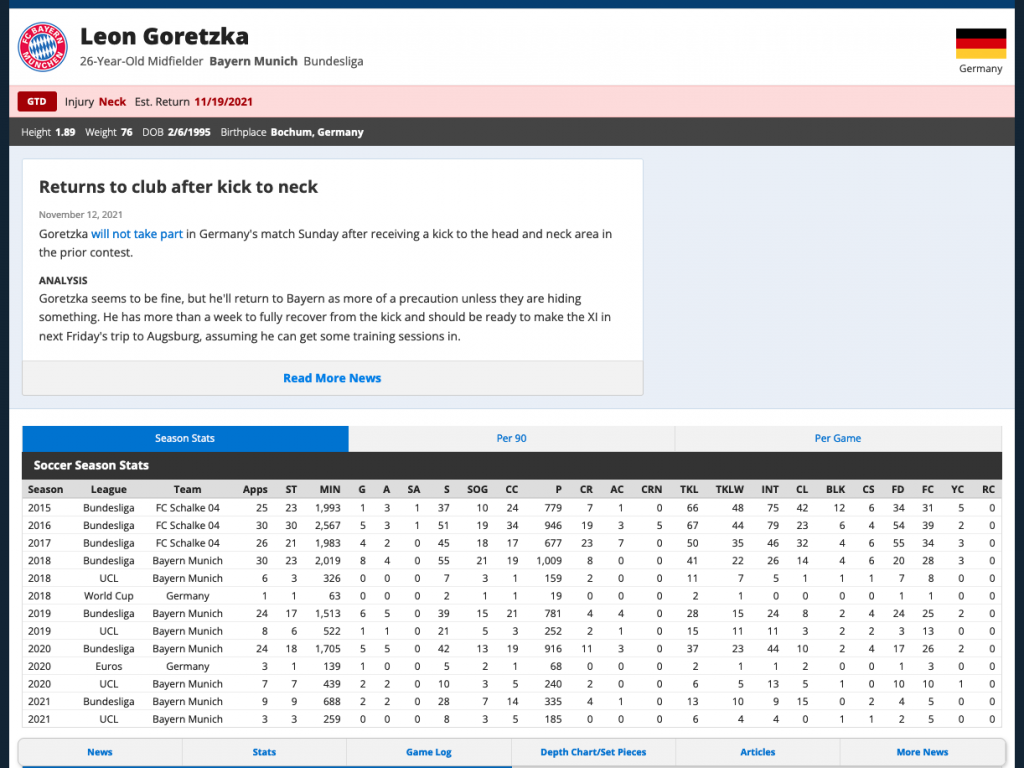 #4: ScoutPad
Now we have arrived at a tool that is also used by real scouts to find talent. The free version is quite limited but also sufficient for most managers. However, you can only put 5 players on the watchlist and don't get nearly as many details about the player.
ScoutPad is especially interesting if you play in U23 leagues and really want to sign talent as early as possible. You would probably have had a Haaland or Musiala on your radar much earlier than 99% of Sorare managers. That gives you a clear advantage in purchasing.
Conclusion: If you are someone who likes to buy talent early, Scoutpad is definitely worth a try. Even the paid version is not really expensive at $11/month.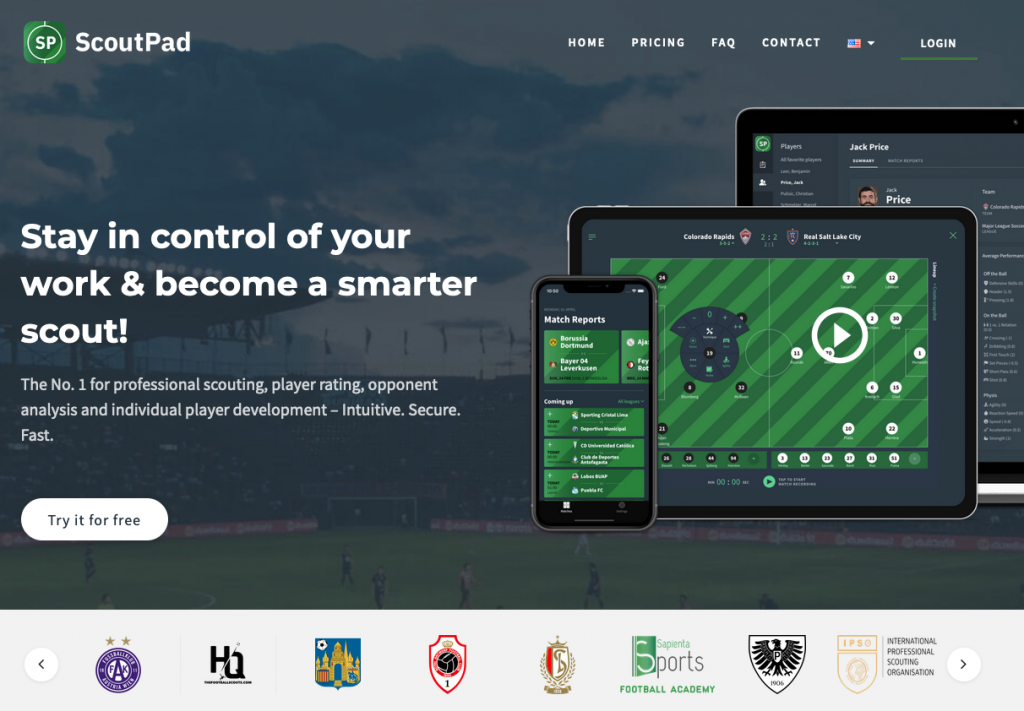 Sorare Resources Conclusion
These are currently our best tools for Sorare. Yes, there are others, but in our opinion these are absolutely sufficient for successful management. But it is always very individual and every manager ticks a little differently. You might come up with a completely different ranking than we do.
Feel free to use the comment function and give us your opinion.