Sorare Data is certainly the most valuable tool in combination with Sorare. So valuable, in fact, that Sorare itself has stepped in and invested there. Actually, Sorare Data was just a weekend project, but it has now become a real company. How Sorare Data makes money is questionable, though, because it's completely free to use and Sorare Data doesn't (as things stand) recruit new managers to Sorare. It doesn't matter to you. What matters is that you know how to use Sorare Data and what benefits you can get from it.
Sorare Data is extremely extensive and it makes little sense to list all the possibilities in this guide. Our aim is to introduce you to the most important functions of Sorare Data – and to do so in depth.
1. The Player Finder
Let's not fool ourselves: Sorare itself is absolutely unsuitable when it comes to transfers or auctions. There is far too little information displayed and the filtering options are very limited. I would say that only "dumb money" (i.e. managers who will only lose money sooner or later) scout and buy directly from Sorare.
The Player Finder, of course, offers a lot of options for filtering. And at this point you need to know exactly what you are looking for. The filter is best used to find potential players for certain positions in your squad, or just to scout for good and cheap players.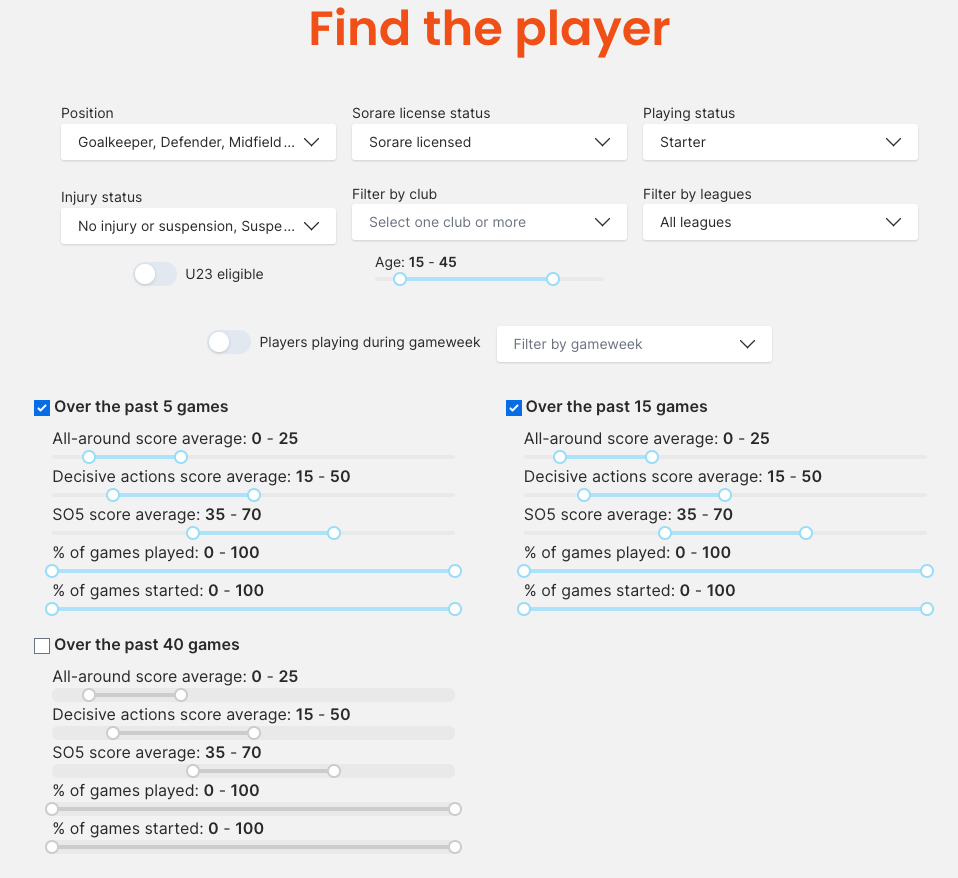 At the top you enter the basic data such as position, league, age, starter, etc.. Further down you can go into detail and filter the performances and starting percentages more precisely. As a rule, you should do this, but you should also know in advance exactly what you are looking for.
For example, this is a good way to find potential rare cards for Threshold leagues. Here you need players who score between 40 and 50 points on average, but also play almost 100% of the time. The filter "over the past 15 games" is suitable here because it is not too short- or long-term. For this you set the SO5 Score Average between 40 and 50 and % of games started to 90-100%. This means you have a player who has scored an average of 40-50 points in the last 15 games and has been in the starting squad at least 90% of the time. Combine that with an age below 32 to find players who don't get substituted because they are not in good condition. Again, this depends on the position. For a goalkeeper or defender, it doesn't really matter.
In the Market Filters you can set the scarcity, i.e. whether Limited, Rare, Super Rare or Unique, and the price.
The "Best Market Price" is very important and indicates the price at which the player is offered on the transfer market – i.e. the lowest price. You should always take this as the upper limit for a purchase, because it means that the player cannot be sold at a higher price. It is a different matter if you assume that the value of the player will increase strongly for some reason.
The Average Price (of the last 7 days). For Limited cards this works quite well, as they are often traded, for Rare and upwards rather less. You should therefore rather work with the best market price.
At this point you can set both and the result will look like this: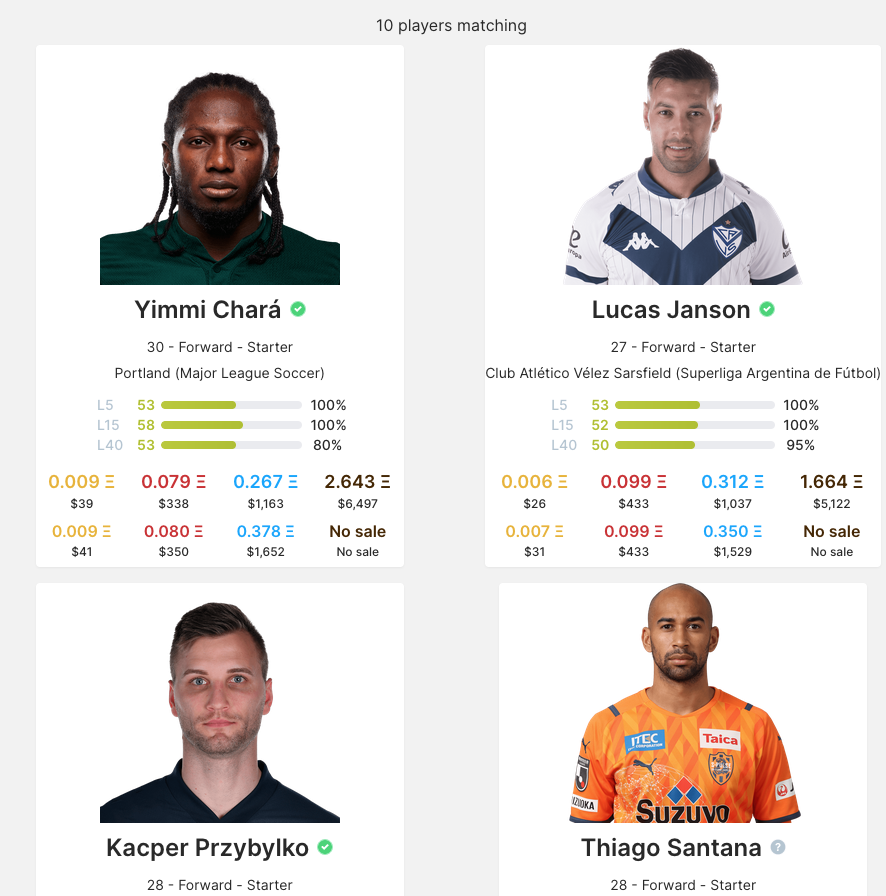 This is the result of our search for good Rare players who are eligible for a Threshold League.
We can then look at the player in detail:
2. The Player Profile
Without a doubt, this is the real goldmine of Sorare Data, because here you can find more details about a player than anywhere else. However, it is easy to lose the overview, which is why we will now go through the most important information.
You can see the market prices of the different cards as well as the number of cards that are available.

The 3 day, 7 day, 2 week and 1 month average is always the average of all sales. These should always be taken with a grain of salt, especially for rare and super rare cards when there are only a few transactions.
The "Best Offer" is the current best offer on the market.
With the averages you can at least see a trend and how much this value deviates from the Best Offer.
To make a long story short: The best estimate for a "fair market value" is somewhere between the 7-day average and the best market offer. You can use this as a rough guide or upper limit for bidding.
Price Graph
The "Price Graph" is also particularly interesting: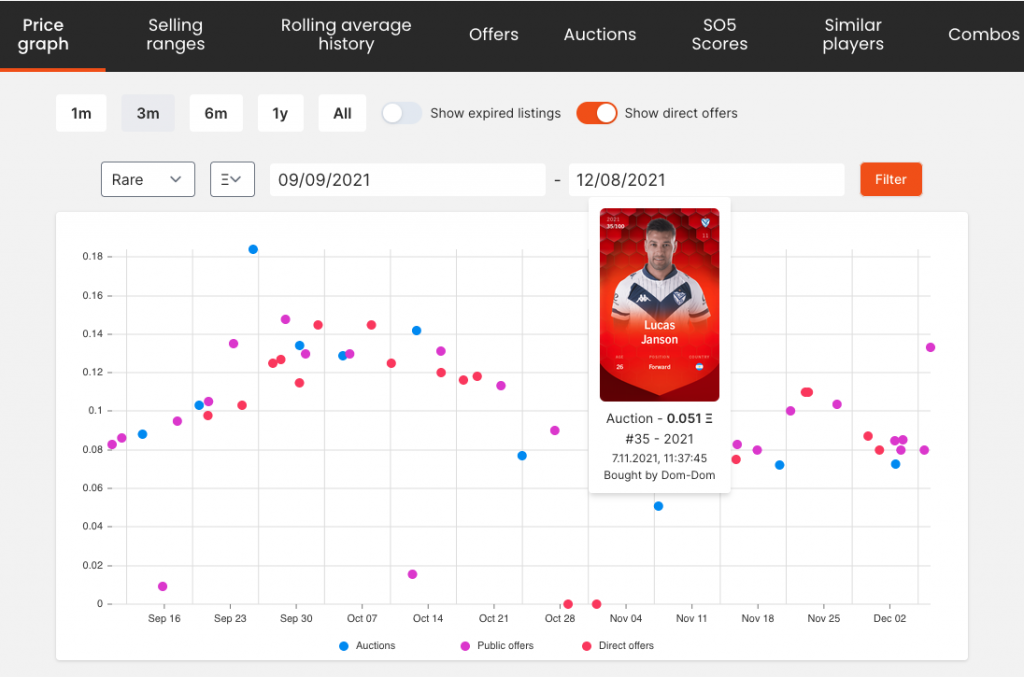 Here you have to ignore the rough outliers in any case. There are managers who give each other cards for free or sell them to themselves at too high a price. This has nothing to do with fair value!
What you should look for is the lower limit of sales from the recent past, e.g. the last 10 days.
Anyway, the Price Graph also gives you a good trend: how cheap is the player currently compared to the past? How has the price developed? etc. Of course, you also have to take season starts, injuries, etc. into account. That's the only way to get a good overall picture. The more long-term you are active, the further you should look into the past.
SO5 Scores
Of course, the player's scoring performance is absolutely crucial and Sorare Data gives a much deeper insight here. You can see the development over time and the games from the past: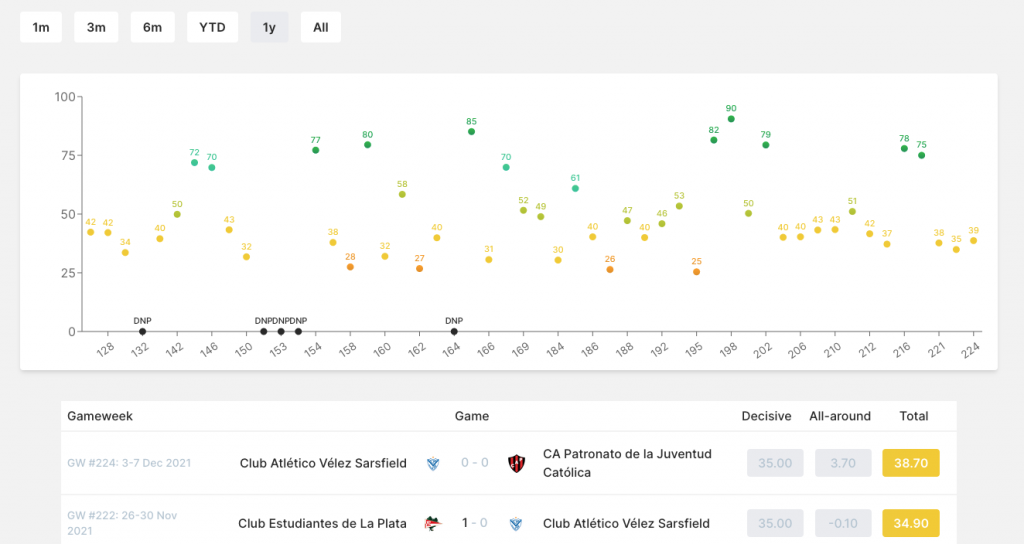 Here you can also easily recognise lows in form, injuries, etc. You also have to take this into account in your assessment.
Offers
When it comes to buying a player, you can see the current offers on the market here: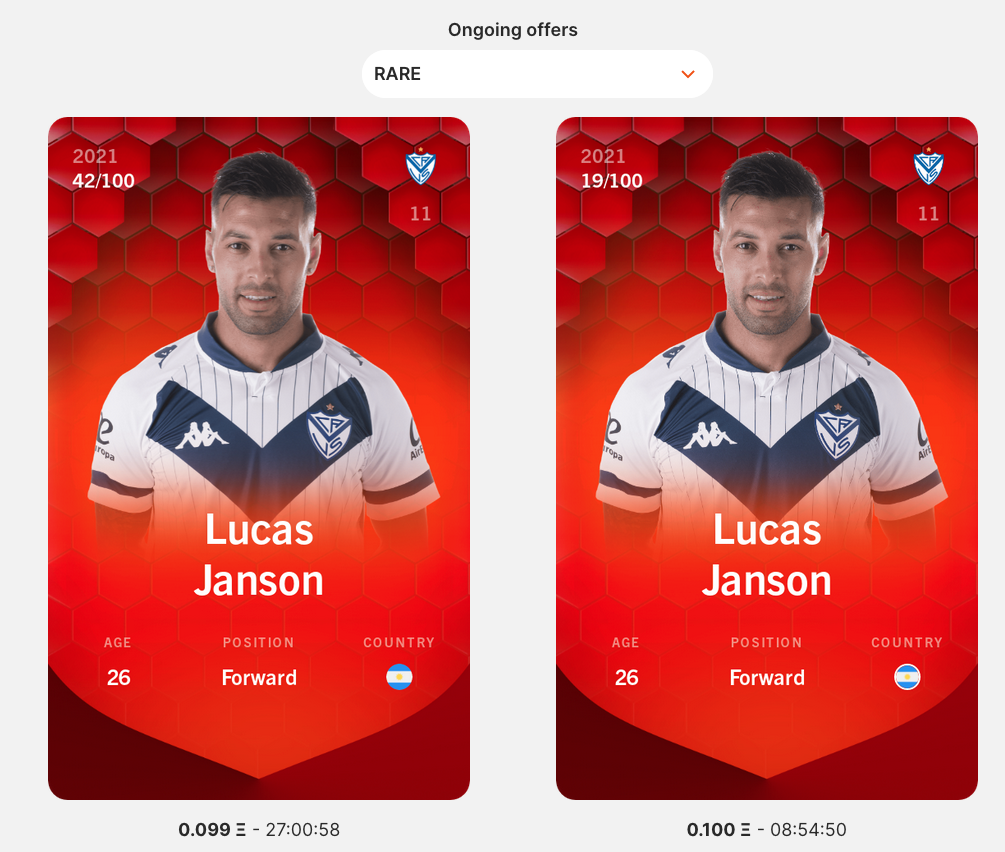 These offers are always sorted by the cheapest. In this case 0.099. You can now click on the card: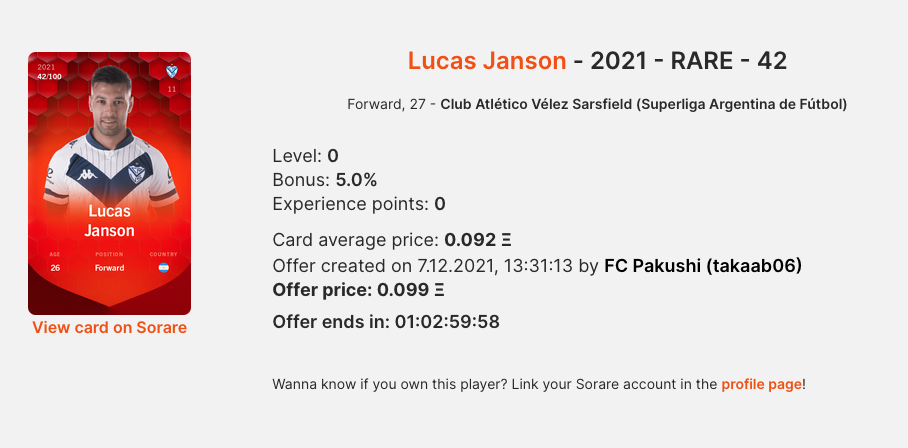 And then click on "View card on Sorare". You will then be redirected to Sorare and can either buy the player immediately for this amount or make an offer to the manager. In any case, pay attention to the "market value" and your own assessment.
In the case of offers, it depends on whether the manager simply wants to get rid of the player (unlikely in this case, but possible in the case of injury, poor form, etc.), or whether he is selling the player in the hope of making a big profit. Again, the decisive factor is how cheap the manager got the player – you can see this for yourself in Sorare's history of the card. Back to the topic.
There are other possibilities in the player profile, but these are the points that are most important in my opinion.
3. Falling Players
The Falling Players Ranking is also very useful. Here you can find players who have lost a lot of their market value recently. Your task now would be to find out for which players this is only temporarily the case and which players will come back in the next weeks. There are of course many reasons why a player loses value. He may be injured or have announced the end of his career. SorareData doesn't tell you anything about that, so you have to rely on other sources.
Unfortunately, you can't filter by SO5 scores, so it's quite difficult to find good players. However, it is worthwhile to visit the site every day to see what has happened.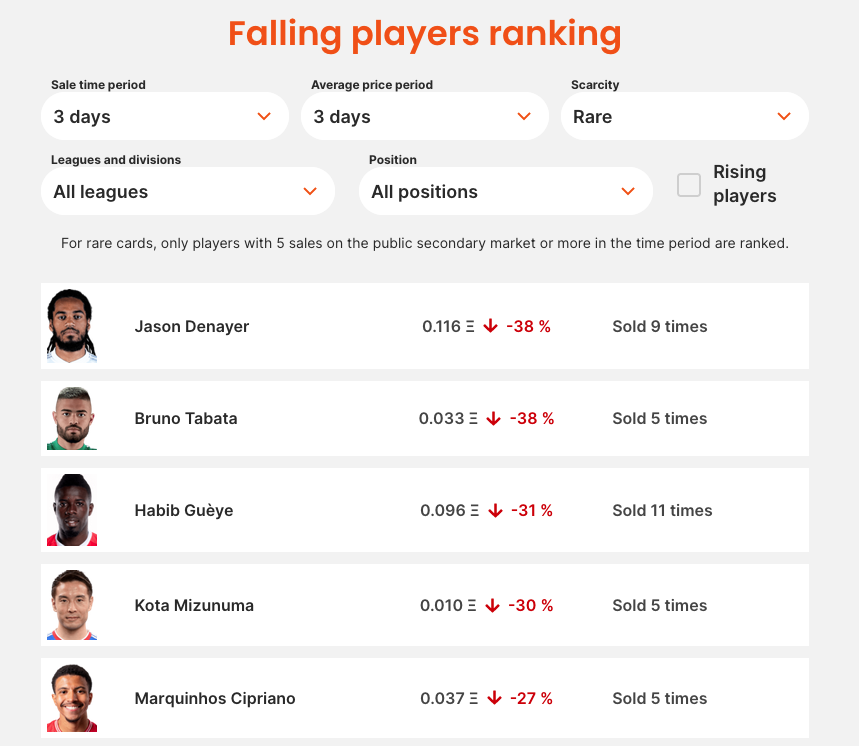 4. The Lineup Builder
If you have connected your Sorare account to SorareData, SorareData knows which cards you have and can help you to build a lineup. At least with certain limitations, which are:
SorareData does not know if a player will play or not (unless he is suspended or the injury is known). There are better sources to determine the likelihood of a player playing – see our Tools & Resources.
What SorareData does better than Sorare is to calculate the expected score depending on the strength of the opponent and whether the team is playing at home or away. If in doubt, just go by which player you expect to score the most points.
ATTENTION: You can create a line-up and save it, but this does not mean that your team is registered on Sorare. You have to do that separately. SorareData cannot access your Sorare line-up and therefore only gives you a recommendation that you have to implement.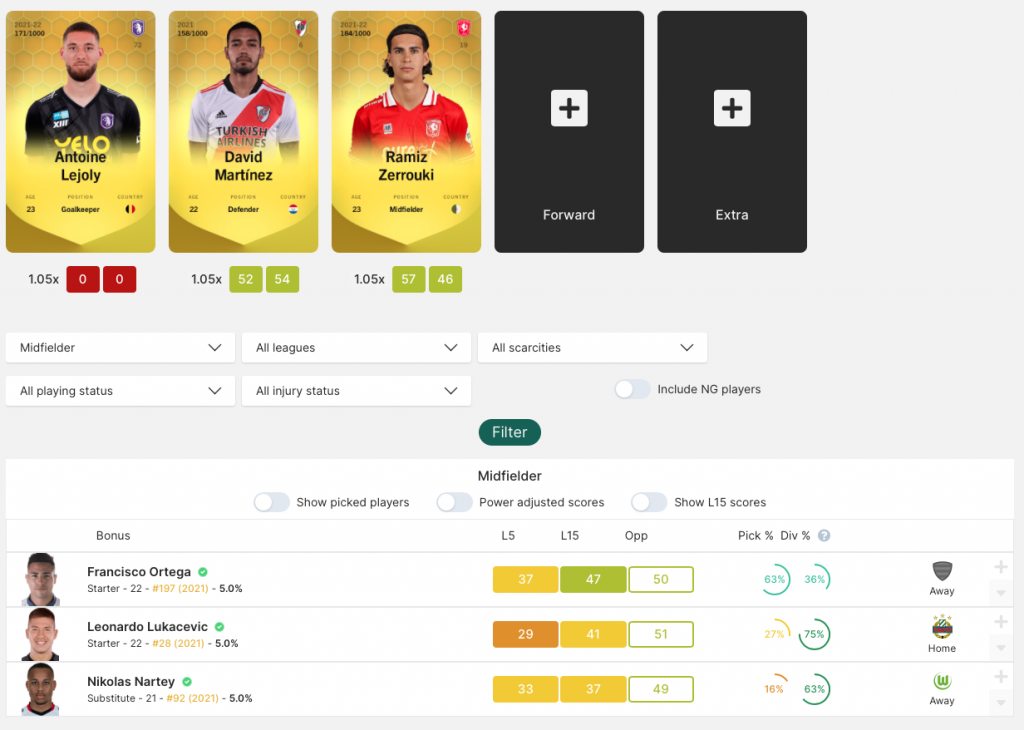 Conclusion
There is much more to say about SorareData, but we consider these four points to be the most important. It is a good start to successfully scout players, determine fair values, find cheap cards and optimise your line-up. These are a lot of tools that will certainly help you become a better manager.